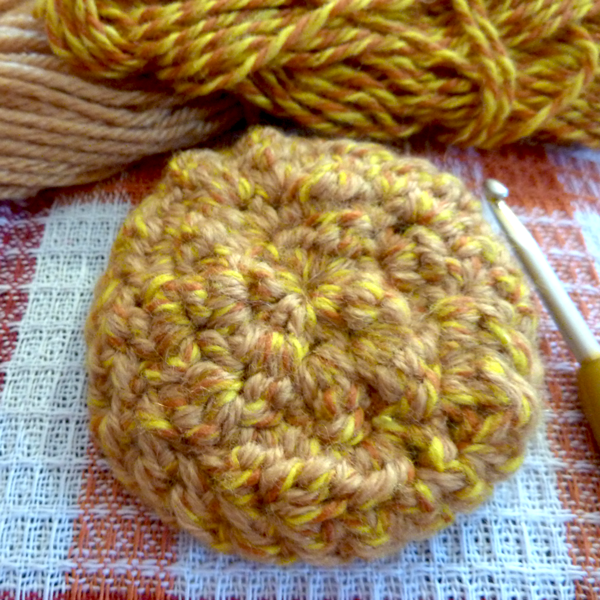 You could say that this is outside my wheelhouse. In that, it's not my usual theme of crochet. I would respond by saying that I enjoy making quirky items and that crochet biscuits (or cookies if you happen to be from the USA) would fall into the category of quirky. I work with an incredible woman who I, fortunately, call a dear friend. She has had a rough 12 months since discovering that she had breast cancer. After surgery and radium treatment she is now in a better place. She's in remission and nearly back to how she was before the detection.
Before this, she was actively raising funds to support cancer research. Just one of the many events was a bake off which was held at our work. Some noted cooks among our colleagues were asked to produce an entry be it savoury or sweet, that met with a criterion of containing an ingredient that began with a particular letter selected at random. A winner and runner-up were chosen by our Director as judge, and a perpetual trophy awarded. We, the non-bakers got to make a $5 donation and consume the entries among a plethora of edible goodies. The event was a big hit. So much so that it made a comeback this year. While I can cook, as a baker I sure can crochet like a demon! I mused about how I could participate. I came up with a cheeky idea. I asked my friend if I could enter, and did the entry have to be edible? I thought that it would be most amusing to make some crochet items as an entry. The response was positive! Positive in that 'no' I could not enter crochet baked goods. But 'yes' I would instead create the prizes.
I would typically make up my own, but for this mission, I had some patterns to track down! A quick Google lead me to Crochet Cakes Sachets. These are beautifully simple patterns that were so much fun to make. I wasn't too sure what I was going to make. I pondered making a trophy or a prize cup that featured a cake or something. I began to think that biscuits would be cute and simple enough to use for that purpose. Another Google search delivered me up a Boys and Bunting jammy dodger pattern. Again, fun to make but a little time-consuming for me to produce the number I required. It did, however, give me a basis for a biscuit pattern of my own. A further Google search to see if anyone had developed a pattern for ANZAC biscuits. I was not able to find anything. The pattern I put together came together really quickly. I worked it out and made 4 ANZAC biscuits while watching (or listening to when crocheting) the new Star Trek: Discovery episode and After Trek. Afterwards, I used this pattern with some minor modifications to make a choc-chip cookie and a jam drop pattern. Those are still in my head. I might get around to getting them written up to share in the future.
I had made a slice of cheesecake, and a sponge cake and these made for an adorable 1st and Runner-up prize respectively. The biscuits, ten of them, in the end, were given to each of the other bakers as a thank you present. I forgot to take any photos of them all before they were handed out. D-oh! Thankfully I have sourced the only image of the biscuits that a colleague who acted as OFFICAL PHOTOGRAPHER captured on the day. The Great Bake Off raised $230. My friend will hold additional fundraising activities over the next few months. All the funds raised will go towards a donation that will be made to Mater Chicks in Pink
The pattern is written using US terminology.
ANZAC Biscuit pattern
2x 8ply yarn – caramel and tan
4mm hook
yarn needle
Popcorn stitch 1(P1)
YO, draw up loop, YO draw through 2 stitches
In same stitch *YO, draw up loop, YO draw through 2 stitches*
3 stitches on hook, YO draw through 3 stitches
Popcorn stitch 2 (P2)
YO, draw up loop, YO draw through 2 stitches
In same stitch *YO, draw up loop, YO draw through 2 stitches* x2
4 stitches on hook, YO draw through 4 stitches
Biscuit base
MR, CH1, (SC, CH1) =1st HDC, 9x HDC, S/S to CH1 of 1st HDC, CH1 (10 HDC)
*Leave long leader yarn to back of base
*Work HDC through the space between HDCs of the previous row (under all 3 loops that make an HDC)
[(SC, CH1, HDC), HDC], (2x HDC) x 9, S/S to CH1 of 1st HDC, CH1 (20 HDC)
[(SC, CH1, HDC), HDC], *2 x HDC, HDC* x 9 (30 HDC)
SC in CH1 of 1st HDC, 29 x SC, finish off (30 SC)
*Stitch the leader yarn under the stitches of 1st round, bring through to back, pull tight to close the centre
*Bring end tail to front RS to weave in
*Wrong side WS (back) is the right side RS (front)
Biscuit top
MR, CH1, (SC, CH1) =1st HDC, 9x random combination of HDC, P1 and P2 (10 stitches)
*Leave long leader yarn to back of base
*Work stitches through space between stitches of the previous row
*stitch is either an HDC, P1 or P2 randomly selected
[(SC, CH1, HDC), stitch], 2x stitch x 9, S/S to CH1 of 1st HDC, CH1 (20 stitches)
[(SC, CH1, stitch), stitch], *2 x stitch, stitch* x 9 (30 stitches)
SC in CH1 of 1st HDC, 29 x SC, finish off (30 SC) DO NOT FINISH OFF
Join the two sides together with SC
With WS of BASE facing you, insert hook through SC and then again through 1st SC of Biscuit TOP. Work SC through next SC of both sides around, finish off (30 SC)
* Bring end tail to BASE to weave in and thread through inside biscuit. Trim any excess
*No need to stuff the biscuit