I really enjoy the challenge of developing a monster from a drawing, a memory, a story or from a description.
Do you have a vivid concept or memory which you would like to see come to life? Please message me so we can discuss the possibility of and the details about your Monster.
Below are a selection of custom creations which I have designed, developed and 3Dified (if that's a thing) from various ideas and concepts.
A gorgeous drawing reached me via the Warwick Art Gallery's Kids Club. It's from the mind of a 4 year old. The illustration simply screamed to me to become a Monster. A bubbly, bright orange Monster named Fanta was the outcome. He was purchased from my Monsters Under the Bed exhibition held during the Jumpers and Jazz in July festival in Warwick, Queensland.
I was also asked to develop 3 potted monsters to live in a friend's niece's cubby house.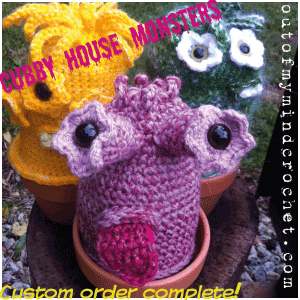 Whilst I don't generally like to make replica pieces I enjoyed the challenge of replicating pop icons for 2 lovely gals. Lady GaGa in 2 iconic outfits and Ke$ha live onstage at Glastonbury. Complete with removable headphones and mic!
And this totally falls into the same category. Whilst not a monster or creepy. It is pretty goddamn cute! It's a Minion hat and an overall nappy cover. I wash 't too sure how it would come out. And I never expected to secretly want a set to wear myself…